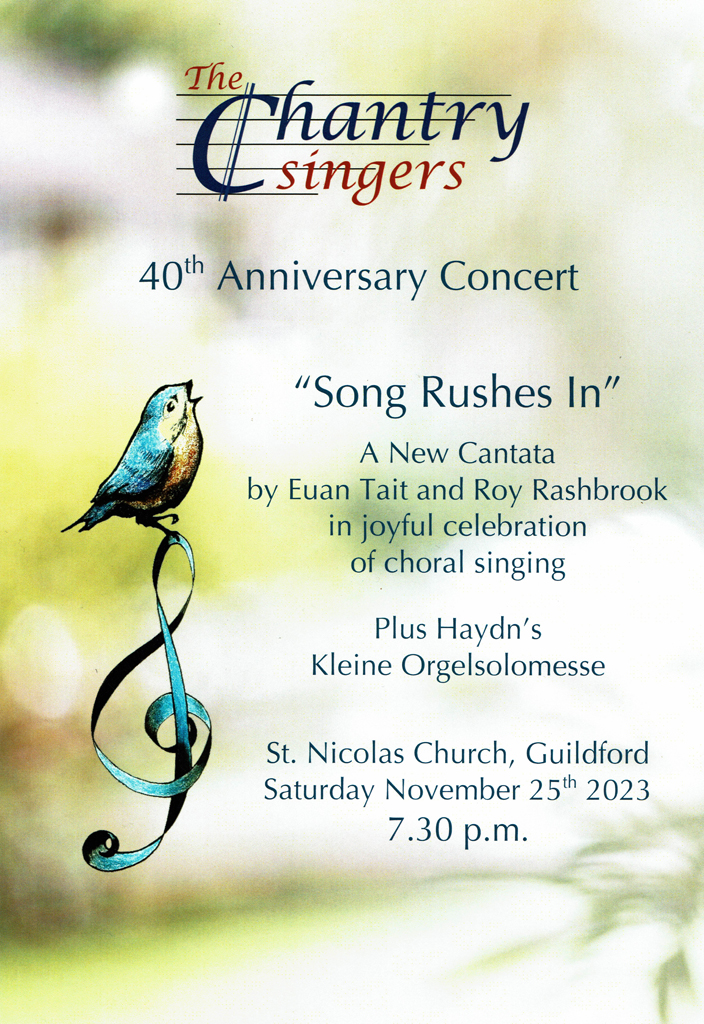 Some invisible text
Welcome

Please come along to Chantry Singers' 40th Anniversary Concert (and a glass of Champagne!) on Saturday 25 November in St Nicolas Church, Guildford. A video trailer is availble on YouTube
In addition to performances of motets by Stanford, Byrd and Tallis, Chantry Singers will be joined by tenor soloist Adam Tunnicliffe and a chamber orchestra in Haydn's "Kleine Orgelmesse" as well as the little known but really beautiful "Tantum Ergo" by Fauré. However, the main work of the evening will be the second performance of "Song Rushes In", a new cantata by the choir's conductor, Roy Rashbrook, with a libretto by Euan Tait. Described by eminent choral conductor Malcolm Hicks as ""Beautifully crafted . . . A kaleidoscope of fluent musical invention", the cantata explores joy of singing together; the feeling of interconnection it gives us as human beings and how much we missed it during the prolonged silence of the lockdowns of 2020 and 21.
Chantry Singers will be collaborating in this performance with Hart Voices, for whom the work was originally written. However, Chantry Singers have themselves also performed extracts from "Song Rushes In" in two previous concerts. Judging from the audiences' reactions to these, we're all in for a real musical treat!
It would be lovely if you could join us.
You can buy tickets directly from us, or by phoning 07969 906439. Alternatively, you can CLICK HERE to book online